Virginia Modeling, Analysis and Simulation Center
VMASC is an enterprise research center of Old Dominion University focusing on advances in modeling, simulation, data analytics, and cybersecurity. Although we apply these technologies to many fields such as policy-making, transportation, advanced manufacturing, autonomous systems, healthcare, computational modeling is at the core of everything we do. VMASC also employs a group of 33 individuals that is composed of faculty, scientist, and support staff that applies state-of-the-art advanced simulation, analytics software and high performance computing resources to this work in our 60,000 square foot research facility.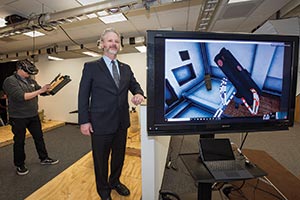 VMASC benefits the region and the Commonwealth, not only through innovative research, but also as an economic engine for Hampton Roads. VMASC contributes to regional workforce development by engaging students in collaborative funded research to create a steady stream of qualified graduates ready to work in their prospective industries. Then, it helps keep graduates in the Commonwealth by supporting the industry in the creation of jobs through technology transfer and engaging in a collaborative business environment fostering digital transformation.
VMASC has accomplished a lot in twenty years—$100M in funded research, over 150 students funded on research projects, and over $180K contributed or pledged by our VMASC Industry Association to ODU academic programs, scholarships and VMASC STEM activities. But looking ahead, our goal is to go beyond evolutionary progress. We are not only working to advance the state-of-the art in computational modeling, but also to apply modeling and simulation, data analytics, and cybersecurity technologies, with our colleagues on campus and industry partners, to solve the most complex problems we face regionally, nationally, and globally. The truly outstanding research faculty and staff at VMASC are working hard to innovate locally and transform globally.
Because of scholarships like yours I have made it to the second semester of my Master's Degree at ODU without debt.