Our Team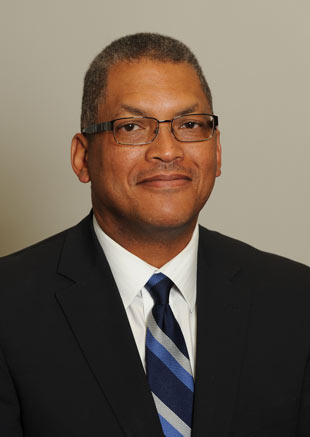 Thank you for your continued generosity in supporting Old Dominion University. Your investments have changed thousands of lives and provided transformative experiences for our students and faculty. Through classroom instruction, hands-on learning experiences, extracurricular activities, and internship opportunities, Old Dominion University students become leaders and important contributors to our society.
We are deeply grateful for the support of benefactors like you. On behalf of President John Broderick, our students, and our faculty and staff, I thank you for your dedication to helping our students become fully prepared to embark on their roads to success.
Sincerely,
Alonzo C. Brandon '85
Executive Director, Foundations
---
Karen Cook
Executive Assistant to the Vice President for University Advancement
kcook@odu.edu
Darrick Williams
Office Manager, Development
d6willia@odu.edu
Priya Panikkar
Assistant Vice President, Advancement Operations
ppanikka@odu.edu
Vacant
Director of Prospect Research, Management and Analytics


Vacant
Research Analyst


Kyllie Bullion
Senior Major Gifts Officer - Strome College of Business
kbrinkle@odu.edu
Krista Kimme
Major Gifts Officer - College of Sciences
kkimme@odu.edu
Manisha Sharma
Major Gifts Officer - College of Health Sciences
m1sharma@odu.edu
Peter Lawrence
Major Gifts Officer - College of Arts & Letters
plawrenc@odu.edu
Vacant
Major Gifts Officer - West Coast Region
Vacant
Major Gifts Officer - Regional, Washington, D.C.
Michael Walker
Major Gifts Officer - Strome College of Business
mwalker@odu.edu 
Sarah Martin
Major Gifts Officer - Batten College of Engineering & Technology
sfmartin@odu.edu
Carey Clow
Major Gifts Officer - Darden College of Education & Professional Studies
cclow@odu.edu
Maggie Libby
Associate Vice President of Foundations/Chief Investment Officer (CIO)
mlibby@odu.edu
Donna Manglicmot
Foundations Board Coordinator
dmanglic@odu.edu
Kim Ross
Director of Accounting/Chief Financial Officer (CFO)
kjross@odu.edu
Athletic Foundation (ODAF)
Jena Virga
Senior Associate of Athletic Department & Assistant Vice President for Athletic Development
jvirga@odu.edu
Ashley Vellines
Assistant Athletic Development Officer-Special Events & Premium Seating
avelline@odu.edu 
Mailing Address
4417 Monarch Way, 4th Floor
Norfolk, Virginia 23529
Phone