Donor Spotlight: ODU Grads Make A Gift To Help Future Education Students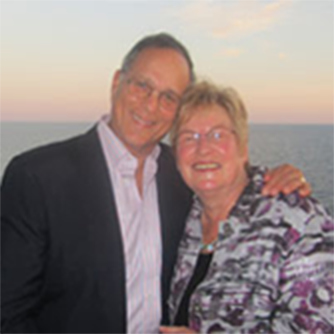 A native of Norfolk, Jay Kossman graduated from Maury High School and headed to Old Dominion to study political science. About the same time, Jay's future wife, Joyce, graduated from Granby High and was drawn to Old Dominion due to its proximity to home, the cost and her desire to teach.
Jay and Joyce were commuter students. Jay became involved with campus life as the judicial vice president of the Student Government Association, where he worked closely with Bill Whitehurst, then dean of students. Jay's involvement with student government qualified him for an SGA scholarship in his senior year.
Joyce's desire to teach enabled her to receive support from the Virginia Teaching Scholarship Loan Program for three of her four years at Old Dominion. For every year of scholarship, she agreed to teach a year in the Commonwealth of Virginia. It was a perfect arrangement for the New York transplant planning to reside in Virginia.
Although Jay and Joyce both graduated from Old Dominion, they didn't meet until several years later when introduced by a mutual friend at a party. They have been together ever since. When they married in 1975, Dr. Katherine Kersey, Joyce's graduate school advisor and mentor at ODU, sang at their ceremony.
Jay taught social studies at Booker T. Washington High School for a year and then attended graduate school. He soon became regional sales manager for a national industrial chemical company. Joyce found her passion teaching kindergarten and first grade in Norfolk and Virginia Beach before moving on to the talented and gifted program, where the Virginia Beach Education Association recognized her for teaching excellence. Joyce completed her career in Virginia as an assistant principal.
Jay's career led him to Alliance Health Systems, now Sentara Healthcare, where he became director of marketing for Optima Health Plan. His next job required a move to Florida to join MetLife Healthcare. In following years, he held senior management positions with health plans in New York and Connecticut, including the physician-owned MD Health Plan of CT and MDNY Healthcare.
After participating in the start-up of four health plans, Jay joined the health care consulting practices at PricewaterhouseCoopers and Navigant Consulting. Currently, he is senior director of health care services at Jones Lang LaSalle, an international real estate services firm, where he manages relationships with hospitals and health systems and assists the firm's management team in understanding the complexities of the health care industry.
During these years in the Northeast, Joyce continued her career as an administrator and was honored with the "Educator of the Year" award by the Hamden, Conn. Chamber of Commerce. She recently retired after 23 years as an elementary principal.
Joyce and Jay recently began working on their estate plans. In appreciation for their education, they included ODU in their estate plans with a gift to fund The Jay and Joyce Kossman Scholarship to assist future students in the Darden College of Education.
"ODU provided a quality education which led to career opportunities," Joyce says. "We are happy to be able to pass that along."
When the Kossmans visited campus last fall, it was evident to them how much ODU has grown. They were happy to see the many campus changes, to see how programs have expanded, and to see that ODU has an enhanced academic reputation.
"It's a great feeling to support something you believe in and assist future students with their education," Jay says.
Joyce and Jay are planning their relocation back to Norfolk, their home port, after being away for many years. . They look forward to reconnecting with family and friends and participating in campus events. They also plan to add more exciting adventures to their list of world travels.