Donor Spotlight: ODU Expands Real Estate Education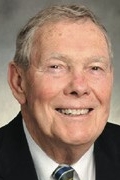 According to the U.S. Department of Labor, employment in the American real estate market is projected to grow 7% by 2028, faster than the average for all occupations. As a result, the number of real estate firms knocking on the doors of business schools for brokers and agents continues to increase. Old Dominion University's Strome College of Business is answering with its new Harvey Lindsay School of Real Estate.
The school bears the name of Harvey Lindsay in recognition of a gift from a donor-advised fund, created by Frances Lindsay, the late wife of Harvey Lindsay Jr. In 1954 Lindsay Jr. joined his father's business, Harvey Lindsay and Company, and helped the then-35-year-old firm transition from a residential real estate business to handling exclusively commercial real estate. Lindsay Jr. was elected president and CEO of the Norfolk, Va.-based company in 1969 and currently serves as chairman.
"Harvey Lindsay has been a significant force for good both in local real estate and the civic life of Hampton Roads," Old Dominion President John R. Broderick said. "This most recent contribution from Harvey and his family will benefit not just our students but also the industry he has conscientiously served for decades."
Hampton Roads is ranked the 37th-largest metropolitan statistical area in the United States and is home to 1.7 million people. Students at the Harvey Lindsay School of Real Estate have access to research programs involving real-time development issues in Hampton Roads, while faculty conduct regional research on land-use issues that impact Hampton Roads and coastal communities.
"The substantial support of the Lindsay family in naming the Harvey Lindsay School of Real Estate enables the Strome College of Business to make significant enhancements to its real estate and finance program," said Jeff Tanner, dean of the Strome College of Business. "As the real estate market continues to expand, students in the school will have the opportunity to see and work on the entirety of the field from investment and development to design and finance."
Collaborations with key industries in Hampton Roads and beyond provide students with access to internships, project and case analysis, and national industry conferences and competitions. From sales, negotiations and pitch presentations, Harvey Lindsay School students communicate with alumni and business executives through interactive technologies.
"The school provides high-performing students who have the drive to excel in the financial and real estate investment world, with critical adaptive and analytical skills to lead the high-growth real estate industry," Tanner said. "It also supports our faculty who continue to examine issues such as sea-level rise and resiliency to better understand the impact of such challenges on the real estate industry."
For more information about the Harvey Lindsay School of Real Estate visit: https://odu.edu/business/departments/realestate.