Janay Brown
Old Dominion students arrive with a burning desire to make the most of their talents and tenacity. Some students, like Janay Brown, arrive with a title: Founder and CEO. The Business Management Major started her award-winning gourmet bacon company Full Belly Delights while in high school.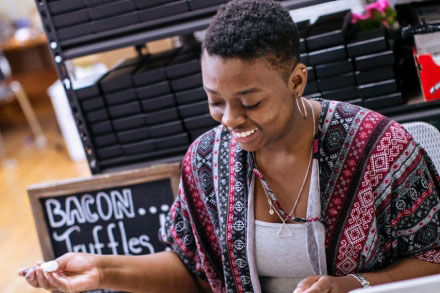 She chose Old Dominion specifically for the resources and support available at the Strome Entrepreneurial Center. Janay believes that "bacon makes people happy," and she knew the coaching and connections at the Strome Center would help her share that belief with more bacon lovers. And she was right. Janay was among the national winners of the 2017 American Small Business Championship sponsored by SCORE, the nation's largest network of volunteer business mentors. Today, she's growing her business and the center's reputation, serving as a mentor and inspiration.
What began as Mark Strome's ambition to empower student entrepreneurs has become a gift to everyone at Old Dominion. Just like bacon, it makes people happy.