ODU Endowment Information
After a strong 2017, calendar year 2018 was challenging for investments in general, and the endowments of the University and its Foundations were not immune. The endowments returned -3.0% for the year which was due in large part to the volatile fourth quarter of 2018. Investment performance over the long-term remains positive with performance of 4.4% for five years and 7.1% for ten years. We are heartened to know our performance was in line with our strategic benchmarks, and for Fiscal Year 2018 our performance exceeded the national average reported for over 800 Colleges and Universities.
While the market largely recovered in the first quarter of 2019, we recognize that we are at the end of a very long market cycle and expect to see more volatility over the upcoming year. We continue to identify and fund high quality, diversified investments in both public and private markets that include equity, fixed income and real assets. We remain disciplined in our approach, knowing that the markets cannot be timed, and we are committed to a strategic asset allocation that provides risk-reducing diversification. The Investment Committee continues to shape an investment program that will create opportunities for our students to meet their academic goals.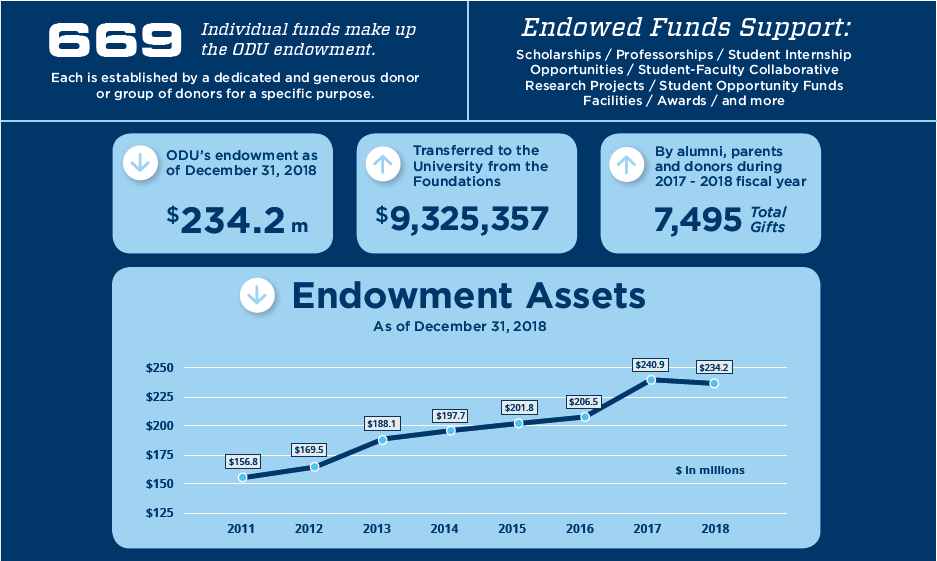 Your support of Old Dominion University is creating a strong future not only for this amazing University and our students, but also for the community and for the world. We truly appreciate your generosity. Please tell us why you are leaving your legacy here at the ODU. Please print the form and once it is completed please email it to donor-relations@odu.edu or mail it to 4417 Monarch Way, 4th Floor, Norfolk, Virginia 23529.
I hope I can use my skills to serve my community through medicine.
The Sree Taposh Kumar & Sreemati Bulu Rani Chowdbury Memorial Scholarship