Athletics
Few things bring people together like the spectacle of college athletics. More than half a million people per year attend ODU sporting events. Our NCAA D-1 athletics program enhances our exposure here at home and across the nation.
The Old Dominion Athletic Foundation, commonly referred to as the ODAF, was established in 1964 with the mission to provide the resources necessary for the success of Old Dominion Athletics and our student-athletes. The ODAF is the channel through which our fans and alumni can partner with our coaches and student-athletes for the advancement of the athletics program.
172
student-athletes are on the Dean's List
58%
of our ODU student-athletes
have a 3.0 GPA or higher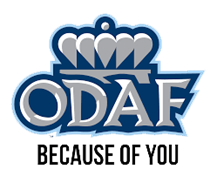 ODU Athletics in the Past Decade
In July of 2010, Old Dominion University ushered in a new era in Old Dominion University athletics. A change in leadership in the Athletics Department provided an opportunity to re-affirm the University's commitment to providing a high quality Division I intercollegiate athletics experience for a diverse population of skilled male and female student-athletes.
In 2012, the institution's athletics programs left the Colonial Athletic Association and joined Conference USA (NCAA Division I) for football, men's and women's soccer, men's and women's basketball, men's and women's golf, men's and women's tennis, men's and women's swimming and diving, baseball, and women's rowing. Wrestling joined the Mid-American Athletic Conference, field hockey joined the Big East Conference, and women's lacrosse joined the Atlantic Sun Conference. In 2013 the football program was reclassified from the NCAA Division I Football Championship Subdivision to the Football Bowl Subdivision. Old Dominion University's President was appointed as vice chair of the Conference USA's board of directors in February 2014.
In view of these changes, the Athletics Department re-evaluated their strategic planning initiative to: reaffirm Old Dominion University Athletics' mission, vision, and core values; identify the priorities, goals, and specific objectives that will enable the Athletics Department to fulfill its mission and achieve its vision; and ensure alignment of those core values, priorities, and initiatives with those of the University as a whole.
The Future of ODU Athletics
As we continue to expand our athletic prowess, funding for scholarships will help us recruit more high-caliber student-athletes who represent our school with great dignity on and off the field. In addition, we plan to renovate 80-year-old Foreman Field at SB Ballard Stadium, home to the most successful startup football program in modern NCAA history. And the creation of a women's volleyball program will add to the already-impressive roster of ODU teams. This is an exciting time to be a Monarch!
With you on our side, it's game on. Always.