Institute for Coastal Resilience
ODU is a national leader in the areas of sea level rise, coastal resilience, and flooding through leading faculty research and partnerships, such as participation in the Resilience Intergovernmental Planning Pilot Project, which ran from 2014-2016 and initiated at the request of the White House, and the establishment of The Commonwealth Center for Recurrent Flooding Resiliency, in partnership with the College of William and Mary.
As ODU secured statewide and national recognition for its work on sea level rise and resiliency, faculty formed the ODU Resilience Collaborative, which created a campus-wide effort for resilience collaboration. This collaboration consists of approximately 20 researchers from various disciplines.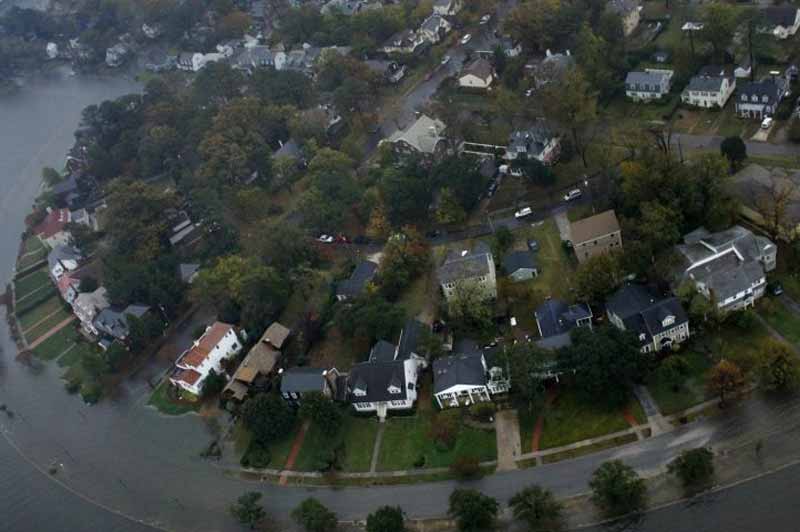 Our faculty are frequently requested to share their research at local, statewide, and national conferences. President John Broderick was featured in the Chronicle of Higher Education discussing issues related to being a coastal university. We hosted the National Conference on Coastal Resilience, and we jointly hosted the American Planning Association Conference with the Charleston Resilience Network. Lastly, in partnership with other coastal cities, we developed SeaLevelRise.Org.
Our goal is to develop a nationally recognized center for coastal resilience. Due to our location in Hampton Roads, which faces one of the nation's highest rate of sea level rise, and the preeminence of our faculty, we are positioned to attract leading researchers in to our center and produce life-changing research.
The Institute for Coastal Resiliency at Old Dominion University will be a residential institute that hosts the world's leading researchers in coastal resilience for semester-long engagements on specific scientific, socio-economic, and policy topics. These visiting researchers will collaborate with ODU faculty members.
The Institute will host residential sessions with a specific problem-oriented charge and will produce actionable deliverables to advance the science and policy of adapting to and mitigating the impacts of global sea level rise. Each session will include public forums and presentations, an academic mini-conference in which additional researchers from around the world take part, and focused engagements with communities on the eastern U.S. coast that are facing threats from sea level rise.
The Institute will focus on the following areas of emphasis:
Coastal Science and Engineering
Critical and Green Infrastructure
Community Engagement
Data Analytics
Coastal and Urban Planning
Operate and plan for expansion ($5 million)
In order to support Old Dominion University as a national resiliency thought leader and to establish the Institute for Coastal Resiliency at Old Dominion University, we propose a $20,000,000 investment in the Institute.
With this initial endowment, the Institute for Coastal Resiliency at Old Dominion University will be able to:
Operate and plan for expansion ($5 million)
Hire prominent researchers ($15 million)

To lead the academic sessions and address one of the grand challenges of the 21st Century- sea level rise, the Institute will need at least 2 National Science Academy-level researchers. This entails a $5,000,000 endowed chair for each researcher.
In addition, to support the initiatives, the Institute will require 10 Research Fellowship positions, which are funded at $500,000 per position.