School of Cybersecurity
The ODU Center for Cybersecurity Education and Research(CCSER) supports ODU's mission to serve its students and enrich the Commonwealth of Virginia, the nation, and the world through rigorous academic programs, strategic partnerships, and active civic engagement. The mission of CCSER is to promote cybersecurity research and education in an interdisciplinary setting. The CCSER includes faculty and staff from across all colleges and reporting units at the University, including Information Technology Services, VMASC and Military Affairs.
The objects of the ODU CCSER are to: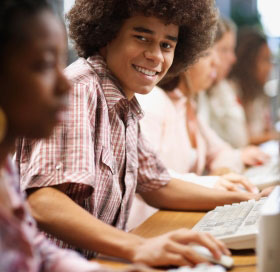 Promote awareness about cybersecurity, cyber forensics, cyber crime, and cyber operations using an interdisciplinary lens
Coordinate interdisciplinary academic programming related to cybersecurity
Expand and enhance the cybersecurity workforce through focused education programs for a diverse group of learners
Facilitate a collaborative approach for responding to cybersecurity issues
Facilitate collaboration with industry, business and military partners on research targeting resilience and infrastructure
Serve as a clearinghouse for cybersecurity academic programming, research, and training
Facilitate the interdisciplinary collaboration of faculty from across the University to address real-world problems through innovative and cutting edge research
The ODU Center for Cybersecurity Education and Research partners with educational institutions, government agencies, non-profit organizations, and private employers focused on developing educational pathways from high school, through community college, to four year institutions, and continual professional development, that provides a capable and fully cybersecurity workforce for the region.
When I see graduates from our program come up to me and pat me on the back - maybe a grocery store or at a meeting - and tell me how wonderful their life is going and tell me how much they appreciate their education at Old Dominion University - that's gold.